NETWORK READY BAG COUNTER(MODEL BC-L-NW) AT ECONOMICAL RATE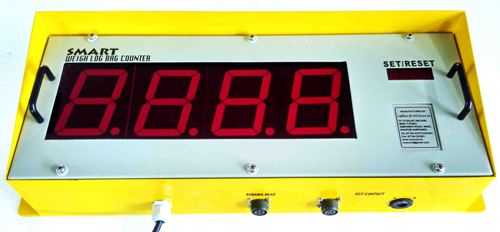 NETWORK BAG COUNTER(MODEL BC-L-NW):
1)Remote Programming feature,Precise counting, high speed, durable
& Intelligent to identify continuous bags.
2)Applicable for single bag counting, continuous bag counting and batch counting.
3)On 85-220 V AC SMPS based power supply unit.
4)Long loop supported repeater stations operating on 85-220 V AC suitable. for remote located stand alone pc
5)Weatherproof design for dusty and rough industrial atmospheres.
6)Sensing head attachment.
7)4 digit seven segment 4 x 4" count display.
8)4 digit seven segment 4 x 1" set / preset count display.
9)Ethernet output for Computer connectivity with operating software:
windows based
10)Batch counting: available for setting and displaying the number of single bags
(0-9999); Alarm at predefined figure with belt tripping connection.
11)On machine acknowledgement switch for indication to the programmer.
12)IR REMOTE for direct field programming.